MESSAGE FROM THE PRESIDENT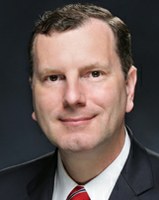 Doctor Ownership Shift  Signals Need for Education
AS IF CHANGES to the U.S. healthcare system in Washington and Springfield weren't enough to consider, the reshaping of our professional environment could impact where we physicians work in the future.
A new report from the American Medical Association shows less than half of physicians now have an ownership stake in their own practices and an unprecedented number of doctors are now employees.
The AMA's analysis on practice arrangements shows the share of patient care physicians with an ownership stake in their practices has dropped below 50% for the first time, falling to 47% last year, compared to 53% in 2012.
This trend has escalated as physicians sell their practices to larger health systems or young doctors coming out of residency decide they cannot afford to start their own practice. As a result, more physicians are becoming employees of hospitals, of larger practices or of healthcare companies.
The share of employed physicians rose to 47% in 2016 from 41.8% in 2012. And for younger doctors, it's even less likely they will work for themselves, given that 65% of physicians under age 40 worked as employees in 2016. This is a continuing and significant drop from 2012 when just about half or 51% of doctors under the age of 40 were employees.
Such employment shifts are not something to be ignored. When you work for someone else or don't have an ownership stake, it changes your beliefs in how you practice medicine.
What we don't know is how the shift in workforce will impact patient care and continuity of care. One school of thought is that doctors could become less productive; indeed, myriad studies over the years show this is likely to occur.
Yet the Chicago Medical Society is not standing by, waiting passively. Our legislative priorities—such as working to ensure physicians have access to their patients by making sure lawmakers and policymakers address network adequacy—are critical.
Physicians who become employees could lose some autonomy and voice depending on their employer. As health insurers increasingly shift away from fee-for-service medicine to value-based models that reward quality and measure doctors, physicians could end up as winners or as losers. Employed physicians would have less control over their ability to remain employed if they didn't score well, for example.
Ultimately, it's about outcomes and providing the best care. Employers will want physicians to outperform the metrics. And if doctors don't, there could be problems down the road. The move to value-based care is still in the early stages but it is moving quickly, particularly in the commercial sector, but also on the federal level with coming quality measures under the Medicare Access and CHIP Reauthorization Act of 2015, also known as MACRA.
As employment and payment models evolve, we are proceeding with our goals to educate one another and work together on advocacy through collaboration.
Please share your thoughts with the Chicago Medical Society so we can pursue these shared goals and better represent you.

Clarence W. Brown, Jr., MD
President, Chicago Medical Society