Prejudgment Interest Letter to the Governor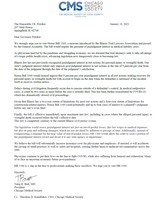 CMS wrote to Governor Pritzker strongly urging him to veto HB 3360. This harmful bill requires prejudgment payment of interest (at a rate of 9% a year) on medical malpractice claims. The bill rewards trial attorneys at the expense of physicians and would allow the court to seize a portion of the prejudgment interest award and divert it to any state agency or department.
Read the full letter below.