Introducing New CMS President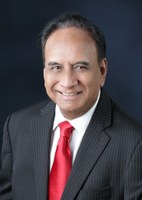 CMS President Vemuri S. Murthy, MD
Vemuri S. Murthy, MD, a board-certified anesthesiologist, was inaugurated as the Chicago Medical Society's (CMS) 169th president during ceremonies on September 12, at the CMS Annual Meeting.
Among the hundreds of colleagues and dignitaries welcoming Dr. Murthy to office were Tapas Dasgupta, MD, President of the Indian American Medical Association, Illinois State Medical Society President Nestor Ramirez, MD, and Board Chair Adrienne Fregia, MD; Pakistani Descent Physicians Society, represented by Tariq Butt, MD, the India Consul Birbal Anand, and educator Paul Vallas, chief administrative officer at Chicago State University.
The evening's festivities included music and a powerful rendition of the American National Anthem, sung by a medical resident Radhika Chimata, MD.
A CMS member since 1983, Dr. Murthy has held numerous leadership positions within the Chicago Medical Society and is active locally and internationally.
He is also a past president of the Indian American Medical Association, Illinois, and former chairman of anesthesiology at West Suburban Medical Center in Oak Park. A former visiting scholar at Harvard University's STRATUS Center for Medical Simulation, Dr. Murthy is currently president of Global Resuscitation Consulting, LLC.
A longtime resuscitation educator, Dr. Murthy is the founder of the Chicago Medical Society's Project SMILE (Saving More Illinois Lives through Education). This community-based CPR awareness program has trained hundreds of laypeople and health professionals in hands-only CPR.
Dr. Murthy is a member of the International Committee of the American Heart Association (AHA), a member of the AHA's national and international teaching faculty, and visiting professor and advisor for medical university resuscitation training programs in India, where he also leads national and community CPR projects.
Though this is a pivotal and turbulent time for health care, Dr. Murthy is confident that CMS is well positioned to address myriad concerns, from reimbursement to opioid addiction, and other issues that fall below the radar such as physician stress and burnout. CMS had much success recently in advancing Illinois' new Network Adequacy and Transparency Act. This legislation contains recommendations first proposed by CMS, and it now awaits Governor Rauner's signature. Not only does this successful network adequacy measure ensure choice for patients, but it also protects physicians as more and more health plans seek to control costs via narrow networks.
CMS will be part of the conversation, working with legislators, government policymakers, and helping physicians to navigate the world of value-based care, Dr. Murthy pledged. He encourages all members and nonmembers to bring their ideas and concerns to CMS.
The Chicago Medical Society was founded in 1850 to cultivate the art and science of medicine. The organization unifies local physicians of all specialties, affiliations, and practice modes, advocating for strong public health and the highest standards in medical education and medical professionalism.