MESSAGE FROM THE PRESIDENT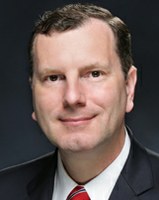 Post-Election Advocacy for Physicians and Patients
The election is over and the nation remains divided after one of the longest and perhaps most contentious political campaigns on all sides. Yet organized medicine is already planting the seeds for cooperation and collaboration as President-elect Donald Trump and a new Congress prepare to make more reforms to the nation's healthcare system and the landmark Affordable Care Act in particular.
It's unclear what will emerge in Washington and it's also less certain what reforms we can expect in Illinois given the state's budgetary issues that will continue to be hammered out in Springfield. But we know that physicians will be looked to for calm by our patients who want us to maintain high standards and quality when it comes to providing care and service. With that in mind, we can see physicians laying the groundwork to make sure we have a seat at the table for discussions about the future of our healthcare system.
Already, the American Medical Association's House of Delegates at its interim meeting in November offered guidance on where physicians can make their case to the incoming Trump administration and Congress to not only help their patients, but also to make sure things remain stable for struggling doctors in private practices. The AMA said any future health reform proposal or change to the Affordable Care Act should continue coverage for the more than 20 million Americans who are either buying coverage on public marketplaces or receiving benefits from the law's expanded Medicaid coverage. Illinois was one of 31 states plus the District of Columbia that agreed to expand coverage to poor Americans.
"A core principle is that any new reform proposal should not cause individuals currently covered to become uninsured," AMA President Andrew Gurman, MD, said in a statement after the House of Delegates released its 2016 Vision For Health Reform. "We will also advance recommendations to support the delivery of high-quality patient care. Policymakers have a notable opportunity to also reduce excessive regulatory burdens that diminish physicians' time devoted to patient care and increase costs."
That said, we want to make sure we are protecting the interests of physicians in private practice and work to continue to reshape policies. Debate under a new administration and Congress offers physicians the opportunity to come together and look out for practices that might still be struggling or could be harmed by talk of curtailing health benefits.
And issues that have emerged with public exchanges are also an opportunity for physicians to make positive changes. Take the issue of network adequacy, for example, which will be a key advocacy point as plans on exchanges and health insurance of all forms moves to what insurers call "high performance networks" that may decide whether patients can see their own doctor.
We physicians won't be alone when it comes to advocating for improvements and protecting what we like in the Affordable Care Act. So we must not be adversarial in these times of political division. We must unite and prepare to work together.
Clarence W. Brown, Jr., MD
President, Chicago Medical Society