President Tariq H. Butt, MD 2020-2023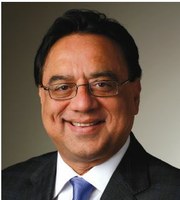 Dr. Tariq Butt is a founding member of Access Community Health Network (ACCESS). Since 1991, Dr. Butt has been on the frontlines of community-based health care delivery as a board-certified family physician. He is currently vice president of health affairs at Access.
Dr. Butt has served as the Deputy Medical Officer at ACCESS since 2007. Under his leadership, more than 250 physicians and mid-level providers provide primary, preventive and specialty care to 200,000 adult and pediatric patients throughout the metropolitan Chicago area. He has been instrumental in creating a family practice training residency program model at ACCESS that enhances patient care and promotes community engagement. Dr. Butt's commitment to quality health care in Illinois is evident by his leadership on influential health policy and physician committees, which includes being a member of the Public Health Committee for the Chicago Medical Society, and a delegate for the Chicago Medical Society. Dr. Butt also serves as Chair of the Medical Disciplinary Board and is a physician consultant to the Bureau of Medicaid Integrity.
Dr. Butt is known for mentoring hundreds of students throughout his 30-year medical career. From Southern California to Kiev, Turkey to Lahore, Pakistan, students from across the global seek out Dr. Butt for his experience and perspective on community health. Currently, Dr. Butt serves as a preceptor for the Mount Sinai Family Medicine Residency Program – one of the first of its kind in the Midwest to be based in a community health center setting. He also holds teaching appointments at the University of Illinois Medical College, Rush University Medical School (Chicago) and the University of Southern California (Los Angeles). He is also the Senior Advisory Board Member of the School-Based Pediatric Asthma Research Committee.
Dr. Butt is an active and engaged member of Chicago's civic and philanthropic communities, serving on several foundations including the Otho S.A. Sprague Foundation, Portes Foundation and Snow City Arts Foundation. In addition to his passion for health care, Dr. Butt is an education advocate and champion serving more than 20 years (1995-2011) on the Chicago Board of Education, and is a former director of the Illinois Association of School Boards (1996-2011). He continues to serve as a member of the Steering Committee on the Council of Urban Boards of Education.